JHS next reunion will be . . .

2022
[MORE]
Reunion 2018 Bahamas Cruise
Terry and Kay Boudreaux Weaver, Kit and Jeanne Wildinger were our hosts for the JHS Reunion 2018 Bahama Cruise. Saturday, 21 April we all attended a cocktail party and buffet at the Pre-Reunion Hotel.
On Sunday, 22 April we gathered in the hotel lobby for boarding our double decker bus to the Coast.
Our ship the Liberty was waiting for us.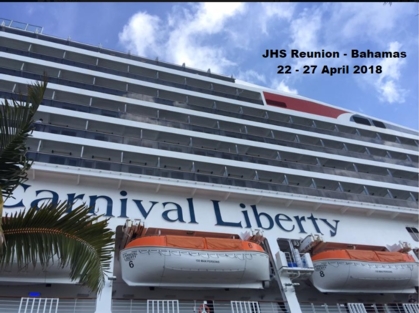 Our ship, the Carnival Liberty was docked at Port Canaveral. Once we all had boarded the Liberty, we met for lunch on the fantail. The JHS Falcons were all very easy to spot with our bright orange T-Shirts and lanyards. So helpful to find each other on a ship full of party-goers.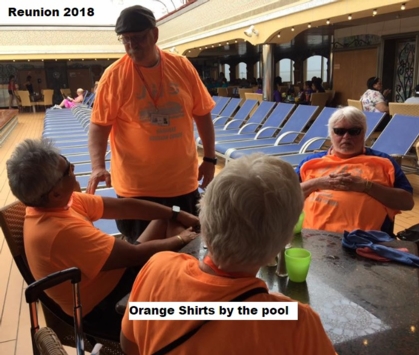 Bahama Cruise was very relaxing. The ship made a stop in Freeport and then Nassau.
JHS 2018 Board Meeting
The last day of our cruise we were at sea, with lots of ship board activities and fun in the Casino. Our ship sponsored a cocktail party for us. Shortly after our JHS hosts had all the Falcons gather for our formal JHS business meeting, where the 2018 JHS Board members were announced.
New JHS Board Members
Alicia Marshall, 1962
Jeanne Ables Wildinger, 1964
Ken Hoppe, 1971
Tim McDonald, 1971
Morgan Lindsey, 1972
Kay Boudreaux Weaver, 1963
Brita Carhart, 1970
Then, the next host for the JHS 2022 Reunion was introduced to cheers. Our next reunion will be held in the great city of New Orleans in 2022.

Due to the pandemic the reunion that was scheduled for 2021 has been pushed forward. The committee is working on updating the reunion plans and will let us know when arrangements have been firmed up.
We hope to see you all there. - - - - - - GO FALCONS!
Big Thank You to our Hosts for the JHS 2018 Reunion: