In Memory
Karen Breaux (Shaw) - Class Of 1964
Karen Breaux Shaw
1945- 2016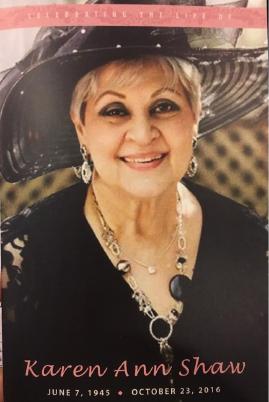 Karen was born on June 7, 1945 and passed away on October 23, 2016. A Celebration of Life for Karen Breaux Shaw was held on November 5, 2016 1:00 p.m. at the Church of the Way, Prayer Chapel
14344 Sherman Way, Van Nuys, California, with a Reception following.
If you would like to provide some memories of Karen or the names, addresses & emails to send condolences, please contact Kay Weaver.
The Johnson High alumni will miss Karen very much.