In Memory
Susan Reynolds - Class Of 1967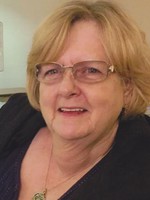 Susan K. Reynolds
1948 - 2016
Sue was 68 and passed away in Belleville, Illinois. She was born August 7, 1948, in Trinidad, living a long life, entered into eternal peace on Saturday, Oct. 15, 2016, at home surrounded by family. Sue graduated from Mascoutah High School, Mascoutah, Illinois in 1967, and lead a successful career in bookkeeping for 49 years, recently retiring from Golden Frontier.
Sue married William Balint on Oct. 12, 1968, and together they raised a family of three sons. Sue was a parishioner at the Cathedral of St. Peter in Belleville, Ill., and a member of the National Association of Women in Construction, a Cub Scout leader and volunteered her time with the Meals on Wheels program. Sue was an avid collector of clocks and cookie jars and enjoyed antique shops and flea markets. Her passion in life was spending time with her children and granddaughter.
Sue was a very kind and gentle soul; the rock and source of strength to many; she had a loving and generous heart, and was always giving to others. Sue was preceded in death by her father, George W. Reynolds; her father-in-law and mother-in-law, John and Catherine Balint; and a brother-in-law, Tim Harris.
Surviving to cherish her memory are her loving husband of 48 years, William J. "Bill" Balint;
Three sons, Shawn (Sherry Burton) Balint, of Springfield, Ill., David Balint and John Balint, both of Belleville, Ill.;
Her mother, Elsie C. Reynolds, nee Caskey;
Siblings, Steven (Beth) Reynolds, Alan (Tracy) Reynolds, Jeorgia Harris, and Penny Melching;
Sisters-in-law, Mary Anne (Ron) Lucarelli, Nancy Balint, Therese (Ron) Leasburg, and Celia Mullikin;
Granddaughter, Leah Grace Balint, the daughter of David Balint and Andrea Dillard; and Jamie Wright, a chosen daughter by Sue and dear family friend to Sue, Bill, and David;
By many nieces, nephews, other relatives and friends.
The family wishes to extend their sincere gratitude to all of Sue's caretakers, the Belleville Fire Department Station 1, and many family and friends for all of their help, thoughts, and prayers, during this very difficult time. Memorials are appreciated to the Siteman Cancer Center or to HSHS Hospice.
Condolences may also be expressed online at www.lakeviewfuneralhm.com. Visitation: Friends may call from 4 to 8 p.m., Tuesday, Oct. 18, 2016 at Lake View Funeral Home, Fairview Heights, Ill
The Johnson High alumni will miss Susan very much.