In Memory
Nancy Weickhardt - Class Of 1971

Nancy Weickhardt Miller-Hobbs
1953 - 2010
Nancy was born August 17, 1953 in Washington, D.C. the daughter of Arthur Francis and Shirley Louise (Miller) Weickhardt. Following her graduation at Johnson High School, Nancy went on to attend and graduate from Oregon State University with a Bachelor of Science degree in Botany and a Minor in Fine Art, with completion of full degree requirements. She also attended the University of Colorado, Denver, doing postgraduate work in Visual Communication/Architecture.
She was a talented artist working extensively in graphic and interior design. She had worked commercially for Urban Outfitters, Barnes and Noble and Revlon/American Crew. Her work has received awards from the American Society of Interior Designers and some of her graphic design work can be seen in the Asian and Spanish Colonial floors of the Denver Art Museum. Proudly one of her poster designs commissioned by the Denver Art Museum is included in the permanent collection of a Japanese Museum. For the past seven years Nancy has been design/graphics director of her husband's 7-person architecture studio, Hobbs Design. Aside from her tireless career, she volunteered her time at the Telluride Film Festival as theatre manager, the Collage Childrens Museum as exhibit and graphic designer, the University of Colorado as architecture studio juror and graphics instructor and the Denver Art Museum as a part of the design council and forum.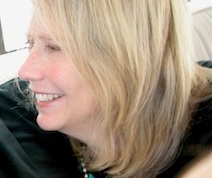 She married Kimble Hobbs on June 29, 1985 in Denver, Colorado. They moved to Boulder in 1985 and then to Longmont in 2003.
Nancy passed away on May 18, 2010; she was 57. She suffered from a respiratory illness for a number of years prior to her passing.
Survivors include her husband Kimble of Longmont, her daughter Jorden Hobbs of Boulder, her mother Shirley Weickhardt, three brothers: Charles Weickhardt and his wife Gail of Port Royal S.C., Fred Weickhardt and Arthur Weickhardt of Charleston, S.C. and one sister Jan Eriksson and her husband Lars of Palisade, CO.
Nancy was preceded in death by her father.
The Johnson High alumni will miss Nancy very much.