In Memory
Thomas Slone* - Class Of 1960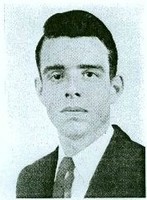 Thomas M. Slone
1942 - 2006
We lost our Falcon on Wednesday, June 21, 2006, age 63 of Beavercreek, Ohio. Tom was born on September 15, 1942 in Albany Ga. In his yearbook at JHS, the caption quote states: "...facinated by anything electrical; his dedication to duty and generosity to other, will always place him in the adiminstration of others." He was a retired Air Force Lt. Col. after 28 years of active and reserve service. He worked at E.F. McDonald for 25 years. Tom enjoyed working on his wife's personal computer and loved all types of computer work.
Tom was preceded in death by his parents Betty and Harrison Slone and Thomas Dunn and his grandparents Lenore and Claire Hilgers. He is survived by his wife of 35 years, Anne Casey Slone, two aunts June Dickinson and Gloria Hanna of Birmingham AL and half-brother Kent Slone of Tucson, AZ.
Funeral services were held at the TOBIAS FUNERAL HOME, BEAVERCREEK CHAPEL on Monday, June 26, 2006. Interment is in Woodland Cemetery, Dayton OH. The family wishes to express their deepest appreciation to Doctors and staff at Miami Valley Hospital and the University of Cincinnati Medical Center and to recognize the care and kindness of Hospice of Dayton. Memorial Contributions may be given in Tom's memory to Hospice of Dayton, 324 Wilmington Ave, Dayton, OH 45420.
The Johnson High alumni will miss Tom very much.