In Memory
Wayne Olson**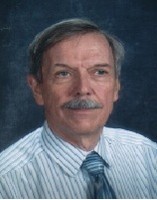 Wayne Olson
1936 - 2011
Wayne David Olson was born September 10, 1936 in Ludington, Michigan to Leonard and Stella Olson. Wayne received his B.A. degree from Central Michigan, and his Masters Degree and Doctorate Degree from the University of Michigan. He was an English Coordinator and later served as a Language Coordinator. Mr. Olson taught at Johnson from 1969 to 1971. He retired as High School Administrator in the Defense Department Dependant's Schools.
Wayne married the love of his life, Tazuko Nakano on March 14, 1969 in Tokyo Japan. They were married 42 years. Wayne was a past president of Toastmasters. He loved reading and writing. He published and co-authored with his wife, Tazuko. He was also a world traveler, living and working in many countries. Wayne was very personable, very kindhearted
and very supportive. He had a zest and love of life and especially enjoyed making others happy.
Wayne is survived by his wife, Tazuko; one son, Leonard H. Olson of Euless,
Texas; two grandchildren, Emily and Jake Olson; and one sister, Frances Kucaj,
of Ludington, Michigan.
Wayne passed away with his family at his side on March 21, 2011 in Ogden, Utah at the age of 74. The family would like to thank the Aspen Care Center for their loving care.
There will be a Gathering of Remembrance on Thursday, March 24, 2011 at Myers Mortuary, Ogden, Utah.

If you would like to add to the memorial mentioned here for this Falcons, please contact Kay Weaver.
The Johnson High alumni will miss our teacher, Mr. Olson very much.